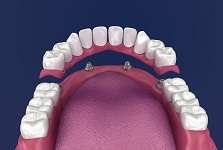 Dentures are the most basic way to replace missing teeth. They are generally made of plastic and/or a combination of plastic and metal and fully mimic your teeth and gum tissue. Suction works between gums and dentures to keep them in place.
In most cases, dentures are a removable dental appliance and are meant to be removed, cleaned, and sterilized while you sleep. They can also be fixed or partial – your dental team will advise you about the best solution for your unique situation
Not your Grandma's dentures
Old fashioned dentures had their shortcomings, but dentures today look, feel and function like your natural teeth. Today's dentures not only improve your smile, but they also help maintain the muscle tone of your face and keep your remaining teeth from shifting out of alignment. And there's never any worry about chewing or speaking, so none will ever suspect they're not your own natural teeth.
Modern Dental Concepts can craft the perfect set of dentures that fit every contour of your mouth – strong, lightweight, odor and stain-resistant. Trust us when we say these are not your Grandma's dentures!
Types of dentures:
Full dentures – A basic solution to replace missing teeth and completely mimic your gum tissue and teeth. Suction naturally works between your gums and dentures to keep them in place without slipping or discomfort. This type of denture is removable and can be placed in a container for sterilization and overnight care.
Implant-supported dentures – If your teeth are not strong enough or you don't have enough bone to support a false tooth, implants can help keep dentures in place. The implants are surgically inserted into the jawbone to stabilize how your dentures fit by using tiny screws, or abutments, to permanently affix your implants to the bone socket. The implants will eventually fuse with the bone, but the dentures themselves will be an external device that can be taken out at night for sterilization and care.
Partial dentures – If you have healthy, natural teeth, partial dentures may be the answer. With partials, a framework is built around your natural teeth, using clasps to hold your partial dentures in place. Metal and newer thinner flexible plastics offer the most durable solution and provide more permanency, however, plastic is also often used in temporary partials that might be needed short-term for emergency use or during post-surgery healing.
Great-fitting dentures made right here in a local lab
Your dentures will be fitted over the course of several appointments to make sure the fit is right. The process takes about four to five weeks, and you will have temporary dentures to use while your permanent dentures are being made and perfected in a local lab, no sending out your dentures or partials out of the country.
Custom Dentures – What to Expect
Plan for several appointments- impressions, fittings, follow-up
The first appointment – the doctor will take highly accurate impressions and send it to the lab to create your custom dentures.
Follow-up appointments – the doctor will adjust the shape, color, and fit of your dentures to make sure they look and feel like your own teeth
Final appointment – the completed dentures will be placed and adjusted until they fit and feel as comfortable as your own natural teeth
Please Note – After dentures are placed, patients may experience increased saliva flow, soreness, or possible problems with speaking and chewing. As mouth tissue and muscles adapt to the dentures, these conditions will subside and eventually go away.
Call us today at (330) 847-0676 and let's get started. Our dental team will provide you with complete instructions about how to properly care for your new dentures, including cleaning and oral hygiene practices and eating habits.