CEREC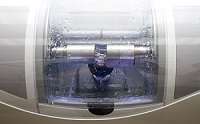 A revolutionary system that enables your dentist to design, fabricate and fit a new crown, veneer, onlay or inlay in a single visit.
Dental Veneers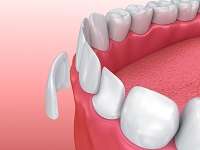 A veneer is a thin layer of material placed over a tooth, either to improve the aesthetics of a tooth or to protect a damage to a tooth's surface. There are two main types of material used to fabricate a veneer: composite and dental porcelain. A composite veneer may be directly placed (built-up in the mouth), or indirectly fabricated by a dental technician in a dental laboratory, and later bonded to the tooth, typically using a resin cement such as Panavia. In contrast, a porcelain veneer may only be indirectly fabricated.
Dental Crowns
A type of dental restoration which completely caps or encircles a tooth or dental implant. Crowns are often needed when a large cavity threatens the ongoing health of a tooth. They are typically bonded to the tooth using a dental cement. Crowns can be made from many materials, which are usually fabricated using indirect methods. Crowns are often used to improve the strength or appearance of teeth.
Dental Bridges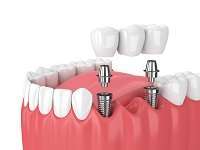 Dental bridges literally bridge the gap created by one or more missing teeth. A bridge is made up of two crowns for the teeth on either side of the gap — these two anchoring teeth are called abutment teeth — and a false tooth/teeth in between. These false teeth are called pontics and can be made from gold, alloys, porcelain, or a combination of these materials. Dental bridges are supported by natural teeth or implants.
Teeth Whitening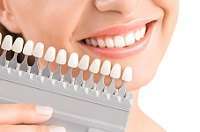 A common procedure in general dentistry . According to the FDA, whitening restores natural tooth color and bleaching whitens beyond the natural color. There are many methods available, such as brushing, bleaching strips, bleaching pen, bleaching gel, and laser bleaching.
See before and after photo
Tooth Implants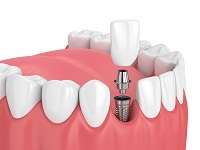 A "root" device, usually made of titanium, used in dentistry to support restorations that resemble a tooth or group of teeth to replace missing teeth.
Dental Partials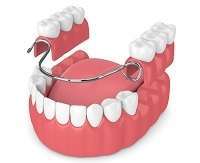 The reason why this type of prosthesis is referred to as a removable partial denture is because patients can remove and reinsert them when required without professional help. Conversely, a "fixed" prosthesis can and should be removed only by a dental professional.
Tooth Dentures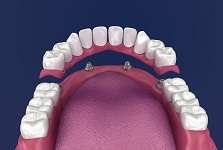 Also known as false teeth, are prosthetic devices constructed to replace missing teeth; they are supported by the surrounding soft and hard tissues of the oral cavity. Conventional dentures are removable. However, there are many different denture designs, some which rely on bonding or clasping onto teeth or dental implants.
Dental Root Canal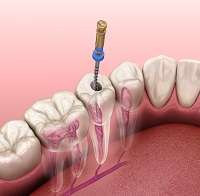 The space within the root of a tooth. Part of a naturally occurring space within a tooth, it consists of the pulp chamber (within the coronal part of the tooth), the main canal(s), and more intricate anatomical branches that may connect the root canals to each other or to the surface of the root.
Dental Extraction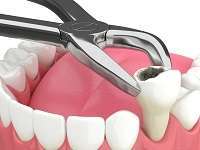 The removal of a tooth from the mouth. Extractions are performed for a wide variety of reasons, including tooth decay that has destroyed enough tooth structure to render the tooth non-restorable. Extractions of impacted or problematic wisdom teeth are routinely performed, as are extractions of some permanent teeth to make space for orthodontic treatment.
Gum Disease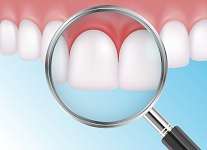 Gum disease is also known as periodontal disease. Periodontal disease is an infection of the tissues and bone that support the teeth. Untreated gum disease can become very serious, causing teeth to become loose or fall out.