Dentist in Warren, Ohio Accepting New Patients
---
Making healthy, beautiful smiles is what we do best.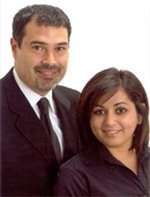 Welcome to Modern Dental Concepts, dental practice of Dr. Sergio Nadler and Dr. Sheffali Sheth-Nadler. Our goal is to provide gentle dentistry, using the latest state of the art dental technologies. We specialize in caring for families, one day smile makeovers, single visit crowns (caps), root canals, teeth whitening, laser treatments, and dental implants.
We aim to keep your dental appointments on time and within a budget that you can afford. Whether you have been seeing a dentist every 6 months, or if it's been several years, we invite you to browse our website and call with any questions or to schedule your next dental appointment.
Don't like Referrals? We do almost everything in-house!
Call us today at (330) 847-0676, and come see what separates our dental practice from the others. We are eager to help you with all your dental needs, and look forward to seeing your smile!
---
"I just finished my appointment at Modern Dental Concepts with Dr. Sergio Nadler. I can now say that I have had the pleasure experiencing both Dr. Sergio Nadler and Dr. Sheffali-Nader, and I must say that both Doctors are very personal and caring—not to mention gentle and professional. It really does not hurt!!! I just had my tooth filled and it was easy!!! If you are someone like me who worries about going to the dentist set your fears aside. I would also like to complement the staff for their professionalism in making the entire experience a good one."
-Deborah
Click to learn more why patients love our practice.