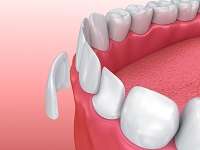 Veneers are becoming increasingly popular because they can instantly improve the appearance of blemished or broken teeth and give you the smile you've always dreamed of!
Porcelain veneers are thin ceramic shells that are bonded directly to the tooth's surface and are custom-crafted to perfectly match the rest of your teeth. It's an easy and effective process and a beautiful way to fix imperfections or dental issues such as:
Chips and cracks
Stains and discoloration
Large gaps
Misshaped or extended teeth
Exposed roots from receding gums
Porcelain veneers are natural-looking, long-lasting
Dental veneers are more permanent than bonding and are a beautiful way to improve the esthetics of the tooth while protecting the surface from further damage. Porcelain veneers are a popular choice because they look so natural, are stain-resistant, and are extremely durable, lasting anywhere from 10 to 15 years… or even longer! It's a one-step process, done in our office, with little discomfort, and no need for anesthetics. Ask the doctor if you might be a good candidate for one or more porcelain veneers to brighten your smile!
Just one appointment to craft your veneers
During your appointment, Dr. Nadler or Dr. Sheth-Nadler will remove a thin portion of the top enamel of your tooth to make room for the incoming veneer. Next, our dental team will take dental scans and a new veneer will be created in our own on-site lab so you can go home that same day with your new veneers.
We think you'll be amazed at the transformation!
Fast Facts About Veneers
Can make teeth, stronger and less sensitive
Can make your face look more symmetrical
Are stain-resistant to coffee, tea, and other foods
Are long-lasting – up to 15 years or more with proper care
Can protect against disease and cavities
Can improve your dental bite
Can help build confidence and brighten your smile
Protect your new veneers with proper care
Beautiful veneers can brighten your smile for a very long time with the right care and maintenance. Of course, you'll want to brush and floss carefully around the veneers, just as you normally would. You'll also want to make sure to have them checked and evaluated when you come for your regular semi-annual visits.
The good news is porcelain veneers are extremely stain-resistant to coffee, tea, and other foods, but be mindful that biting directly into hard foods could affect your veneers. If your veneers become chipped or broken, call our office immediately so that we can make any needed repairs.
Don't wait to take care of bothersome gaps, stains, or cracks, call (330) 847-0676 today to see if porcelain veneers might be the right choice for you.