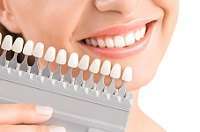 Daily living can take its toll on your teeth. The smile you may have had as a teenager more-than-likely has darkened or yellowed through the years. You take good care of your teeth with daily brushing and flossing, but as the years advance, your teeth discolor for a variety of reasons.
You know who the culprits are – coffee, tea, red wine, tobacco – just a few of the stain agents that discolor your teeth on a regular basis. Rich acidic foods can also wear down your enamel, or perhaps your genetics make you prone to yellow or darkened teeth. Whatever the reason, it may be time to think seriously about whitening your teeth. Not with over-the-counter strips or pastes from the drugstore, but with professional strength whitening treatments from the specialists at Modern Dental Concepts.
Tooth whitening by a professional dentist
When you visit our office for your whitening sessions, you can expect next-level care and professional-grade whitening products that are stronger and more effective than the over-the-counter drugstore offerings.
Removing years of discoloration takes diligence and an experienced hand. We understand the multi-layer process and the importance of protecting and monitoring your gums to avoid irritation or pain. Our professional bleaching process lightens enamel and dentin and offers the highest concentration of whitening capabilities in the teeth whitening market today.
Depending on the severity of stains, it may take some time for results to show. But once the teeth dry out and they rehydrate again, the results will emerge – a beautiful, sparkling smile.
Your whitening treatment
Most of our patients appreciate the personal attention and powerful results of our recommended whitening treatments. Talk with your hygienist to see which of professional whitening solution is right for you:
Teeth whitening has come a long way in recent years, so there's just no reason not to take advantage of the professional-strength whitening treatments available from the professionals at Modern Dental Concepts. Say goodbye to discolored teeth and say hello to that whiter, brighter smile you've been wanting for so long! We can't wait to be your partner in the process.
Call (330) 847-0676 today and set up an appointment for your first professional whitening treatment. It's time for a whiter, brighter smile – it all starts here at Modern Dental Concepts.